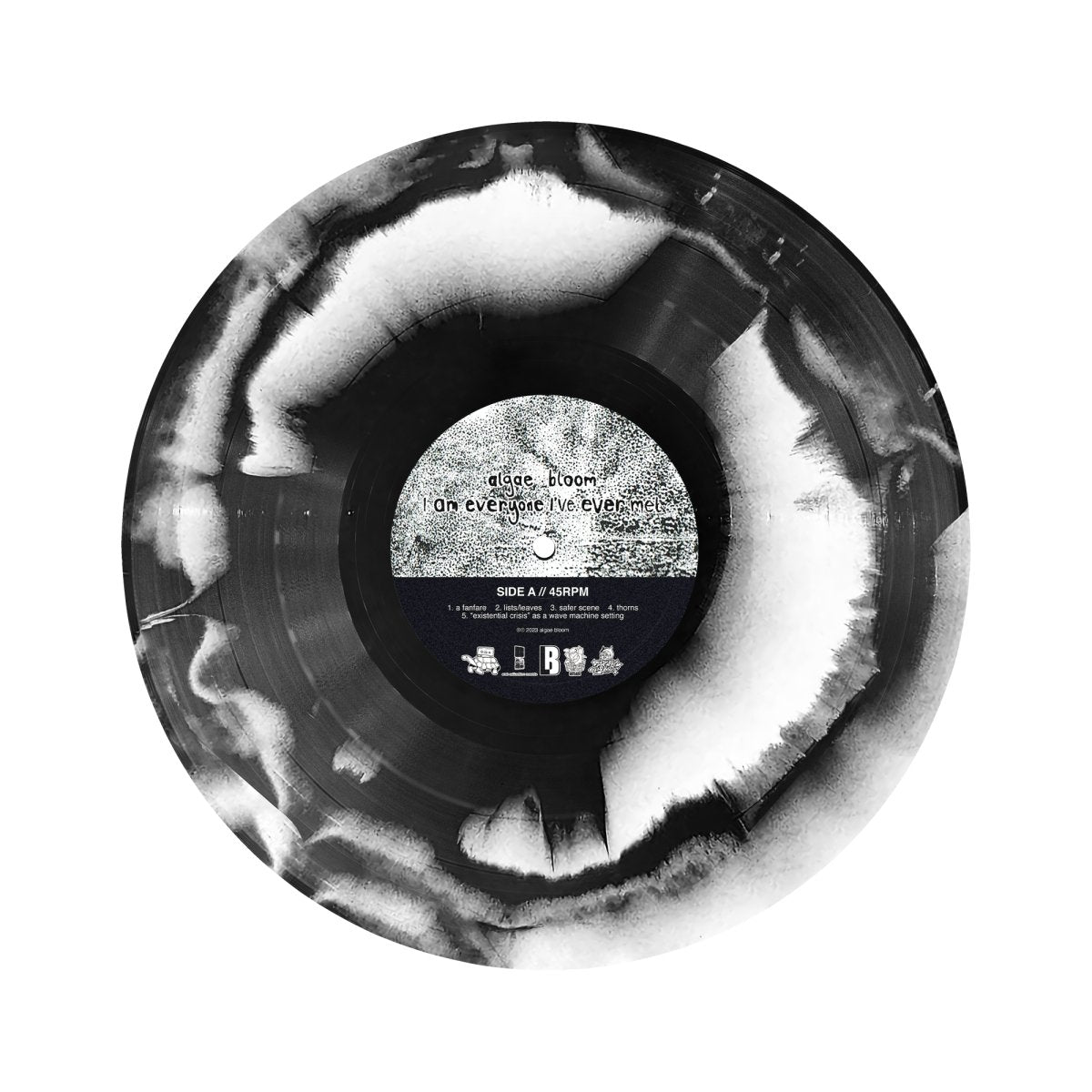 Algae Bloom - I am everyone I've ever met [Vinyl]
Regular Price

$27.00

Sale Price

$27.00

Regular Price

Unit Price

per
Variant image is a mock-up based on what was provided to the pressing plant. Actual, final design is subject to change baed on what is able to be physically produced.
Format 12" Vinyl

Pressing Information 
Limited repressing of 250 copies. All copies come with a 16 page, cd-sized lyric / photo booklet.
/62 Black and White Swirl (Clever Eagle Records)
/50 Ultra Clear w/Black, White, and Red Splatter (Best Life Records)
/50 Grey Marble (Desperate Infant Records / Band)
/50 Grey and Black Smash (Hunkofplastic Records)
/50 Clear w/Black Smoke (Semi Collective Records)
Pre-order the limited t-shirt here: 
https://www.clevereagle.com/products/algae-bloom-deer-t-shirt
Track List
A Fanfare
Lists/Leaves
Safer Scene
Thorns
"Existential Crisis" as a Wave Machine Setting (Interlude)Credits

untitled.
We Met Upon the Level
We Part Upon the Square
(;⌣̀_⌣́)
these songs were written march - september 2015. they are focused on our greatest personal failures, the gulf that separates our real-world actions from those of our idealized selves, and the ever-present difficulty of living day-to-day which at this point is a background hum barely worthy of acknowledgement.

matt - guitar, vocals
leigh - standing drumkit, lyrics, additional vocals on track 7

artwork by braiding
recorded live by phil at jt soar, november 14th 2015
mastered by joe (subsequent mastering)
Catalog Number CER-031